Workshops: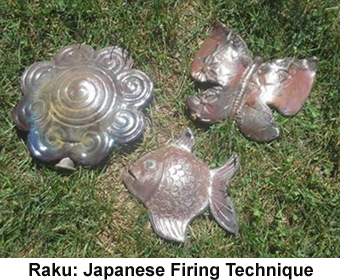 THE CLAY EXPERIENCE: Raku!
Class 1: Saturday May 4, 2019, 1:00 PM - 3:00 PM
Class 2: Saturday May 11, 2019, 1:00 PM - 4:00 PM
Location: Turning Bull Pottery Studio
Design, make, decorate, glaze, fire and take home your own pottery wall art. Examples include a fish, flower or butterfly.
A two-class series: class one: 2 hours: making, class two: 3 hours, glazing and firing.
Cost is $75 per person.
Raku is an ancient Japanese firing technique that creates a beautiful metallic surface on pottery.
Registration in advance by etransfer or credit card.
---
Vision Board Workshop
Saturday, March 2, 2019 at 1-4 PM
Location: London Clay Art Centre, 664 Dundas Street
Where would you like to see yourself in a year? What do you want more of in your life? What makes you happy? From the little things to the big ones, defining, visualizing and writing about your dreams and goals helps turn them into reality.
In this fun workshop you will get creative, experiment in a variety of media, and enjoy time spent playing with purpose. We will enjoy conversation and tea as we focus on creating a visual display of what we will each manifest in lives.
All supplies will be provided to make your own Vision Board to take home, including a 17"x23" corkboard, pins, collage materials, and a multitude of pens, markers, paints, paper, scissors, glue and maybe even glitter!

Beth Turnbull Morrish is a practising potter and pottery teacher. I majored in Ceramics, with courses in graphic design, 3D design, product design and typography. I have taken courses in many media including fashion and textiles, photo, printmaking, painting, drawing, sculpture (including wood, metal, plastics and stone), cooking, garden design, entrepreneurship and of course art history. I have taught in ceramics, art history and creativity development.

Cost is $50+hst. Includes all materials.
London Clay Art Centre, upstairs in the lounge. Parking behind LCAC in the city lot, accessed from Elizabeth Street, Queens Ave or Adelaide Street.

Registration in advance by etransfer or credit card.